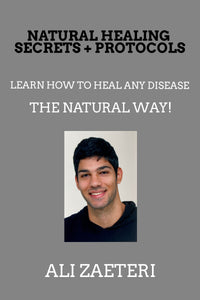 77% OFF. Sale ends Monday November 28. 
This is one of the most complete books ever written on the topic of natural healing! In my new book I share everything I know about natural healing, the alkaline lifestyle, transitioning & being the healthiest version of yourself. As a bonus this eBook will be updated and sent out automatically as I learn new was, new protocols and get new experiences. This eBook is a lifetime project of mine. If you want to be part of this project and learn everything I know about healing diseases throughout my life, I highly recommend you to order this book so you can learn with me as time goes on. 
Everything is done for you. Years of research, connnecting with people, reading, learning and experimenting. This book is a collection of knowledge of the best healers!

The goal is to make YOU YOUR OWN HEALER! It is the best place to learn how to heal yourself, how to approach diseases, how I was able to cure diseases & how the best healers think. 

You will get protocols that worked for many other people.

So here's what you're getting to receive when you buy "Natural Healing Secrets + Protocols":
- How to prepare for a fast, how to fast and how to break a fast.


- How I helped an elementary school teacher to heal her brain tumor. You will get the complete protocol, step by step, where I share with you what we did each and every week until she was cured + how she felt during that time.


- How I cured my mom's fibroids, gum cancer, high blood pressure, arthritis, hashimoto and improved her eye sight. You will get the protocols for that as well.


- A complete healing system that takes you from the disease producing diet & brings you back to your nature. A healing system that removes all waste, toxicity, acidity and mucus from your system so that you can reverse any disease.

- Diseases that were mentioned in this book are: Diabetes, cancer, arthritis, asthma, fibroids, gout, high blood pressure, allergy, herpes, infertility, hiv, candida, psoriasis, cataracts, glaucoma, smoking addiction, porn addiction, hormonal imbalances, mental illnesses, hashimoto and more. Of course not all diseases can be mentioned in this book becasue there are thousands of names for diseases but that doesn't matter because you are going to learn how to reverse any disease, even if it is not mentioned by its name in this book. You are going to learn to be your own healer.


- How pregnant women & babies should be eating + how pregnant women can give a pain-free birth

- My own way of healing where I combine everything I know from various healers
- Uncovering myths (cancer, virus and more)
- I give an estimate healing time for the diseases that are mentioned + a general time estimation to reverse over 95% of diseases. Of course this is not guaranteed but in most cases it will be accurate
- A complete alkaline diet food list with my comments on certain foods.  What I would not recommmend & also what I would recommend from the list.


I know the pain of not being able to help a loved one. That's why this book contains information on what can be done in a worst-case scenario when there seems to be absolutely no hope; what to do if vaccines become mandatory; how you can protect yourself leagally and health-wise; different protocols, the approach of the best healers and my own approach of healing diseases.

After reading this book you shouldn't fear any diseae anymore!
This eBook "Natural Healing Secrets + Protocols"  has 486 pages & a clickable table of content. I don't recommend to skip pages because if you do that, you will most likely miss key information!
Don't expect scientific evidence because science has not figured out yet how nature works. If you want evidence, analyze nature! 
If you are not open minded this book is not for you! This book contains the naked truth and is not meant for people who don't take healing serious or are not open minded. I share the truth as I see them! 

This book is not written to convince you of anything.
This book is written to show you how it's done & how I do it.
I am not a doctor, therefore anything mentioned in this book is not medical advice! I shared what I learned, saw and experienced so far. 

Like my first eBook, this book is in digital format & can be downladed on every computer and smartphone. For any digital content purchased online, you have agreed that the withdrawal period will expire right after your purchase. Before you buy this eBook, you should keep in mind that there will be no refunds!

Get My New eBook Natural Healing Secrets + Protocols Now, And Get Started In Your Healing Hourney!