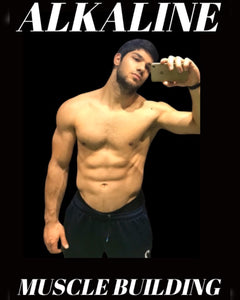 76% OFF!Sale ends Monday November 28. 
The First Alkaline Muscle Building Ebook Ever Written!!! It is my newest workout program where I share everything I know about the alkaline lifestyle and how you can put on more muscle mass & stay shredded.

There's going to be no more disappointment for you, everything is done for you.
I put all my time and energy into it to provide you with the best information, so you can see how anyone can be muscular / put on mass with the help of an alkaline diet. There's no excuse anymore.

Your friends will be asking what you've been doing in the gym because the results will be so obvious for everyone to see. My Alkaline Muscle Building Ebook is the only place to start, you're getting all of my knowledge which has helped me to build a muscular physique wihout eating meat, dairy, supplements & starchy foods. Only natural alkaline foods! Yes! It is possible! 

So here's what you're getting to receive when you buy The Alkaline Muscle Building eBook
10 Week Training Plan which is guaranteed to make your body change

10 Week alkaline diet plan which has been proven over and over again to get more lean mass 

My Own Core & Cardio Routine 

A system to figure out how much you should be eating without counting calories 

How I transitioned from eating meat, dairy, starch & taking supplements to a vegan lifestyle & then going fully alkaline, inlcuding my old diet plan when I was eating meat; My own transitioning stages with 2 transitioning diets. 

3 Alkaline Muscle Building Meal Plan Options 

How I cured my mom's High Blood Pressure & my allergy naturally without medication and how you can do it too! 

A complete alkaline food list 

A list of the best alkaline muscle building foods 

All my experiences & what you can expect from this lifestyle

100% Dr Sebi Approved

Get The Alkaline Muscle Building Program Now and get started with me!